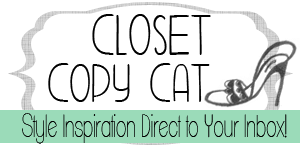 I'm linking up with
Ma Nouvelle Mode
for Copy Cat Closet. This week's challenge - Leggings!
Alas, I know for a lot of ladies this might be the easiest challenge ever. However - for moi, it is one of the harder ones. You kind of have to wear something over you butt with leggings. I have a loooooooooong torso and shirts just aren't made long enough for me most of the time much less to cover me all the way down past my butt! But hey, I'll still do the challenge!
I have to admit something. I basically did this outfit SO last minute so I'm sorry if this post/pictures are quite boring! I had an idea in my head and then threw it together real fast. The belt I really needed to make a hole but I just twisted it around for the pictures. Anyways, here's the pics!
Shirt: LLBean I think
Belt: Came with Jeans probably from Kohls
Capri Leggings: Kohls
Boots: SO old but maybe Kmart?